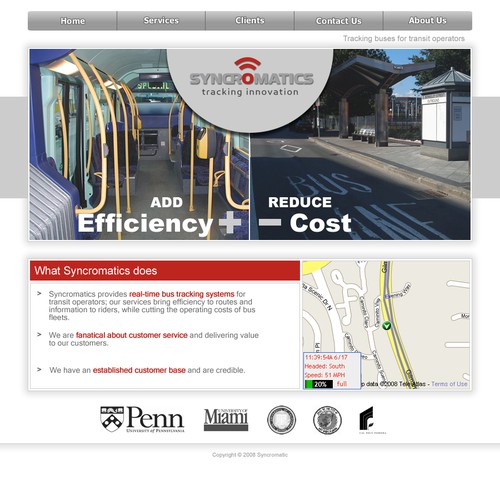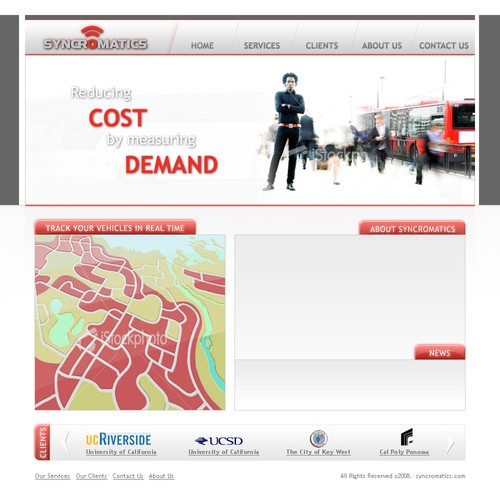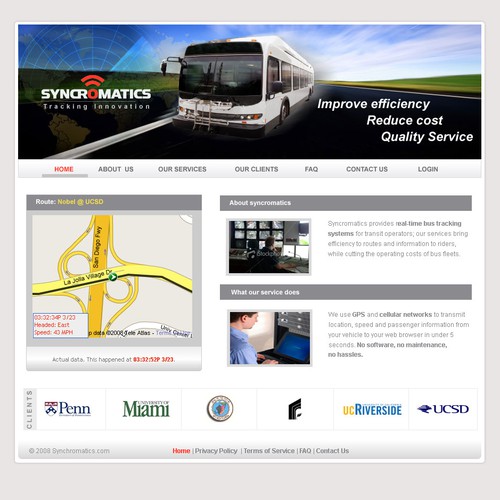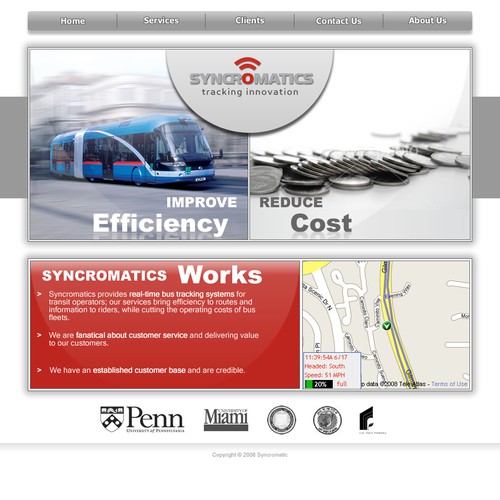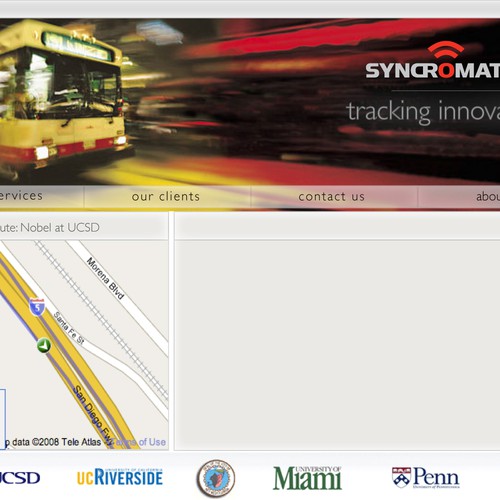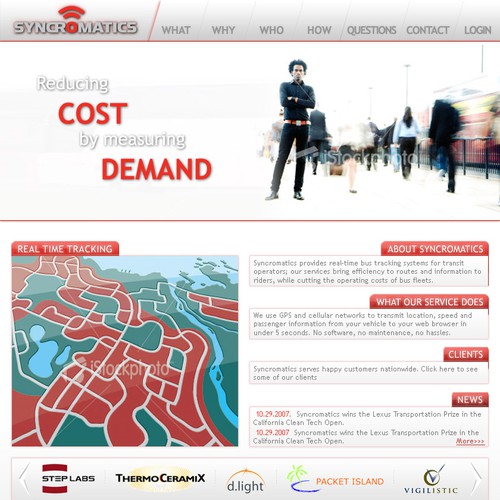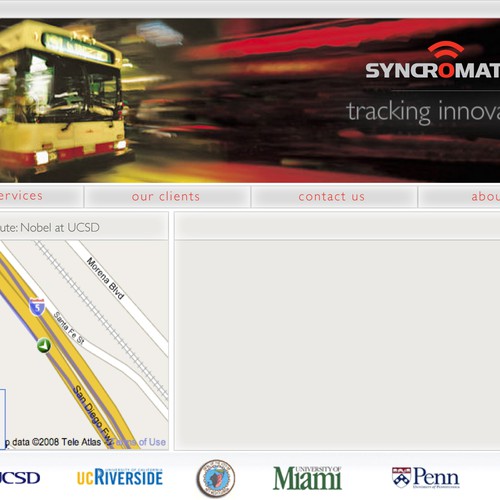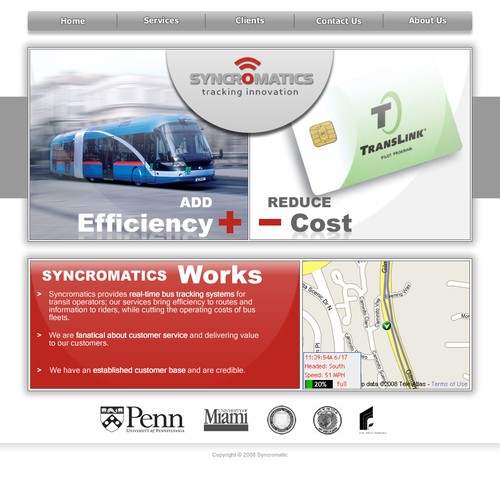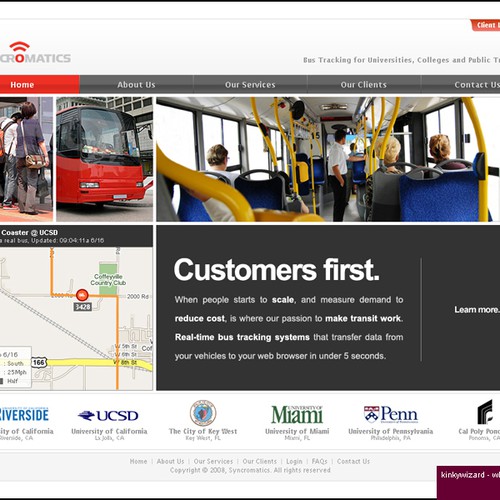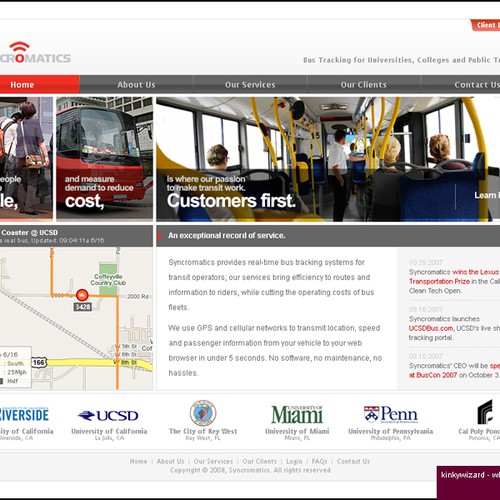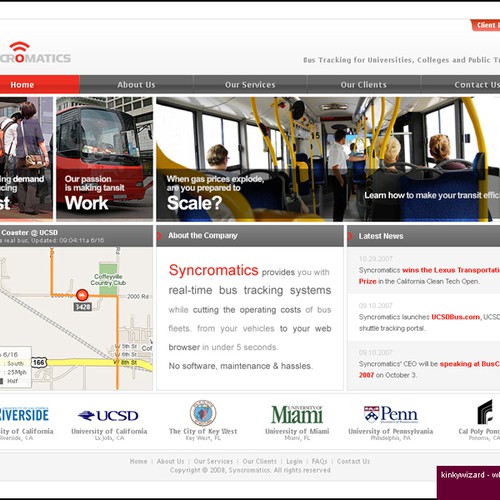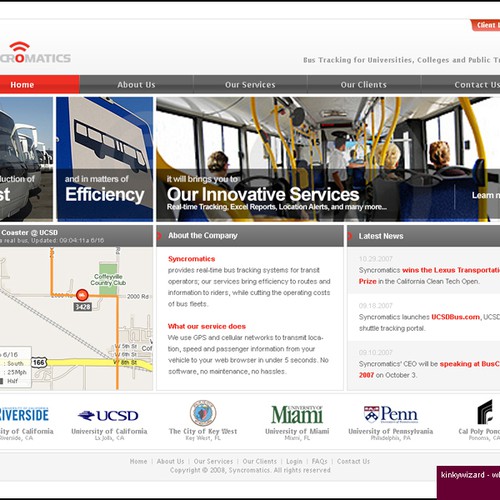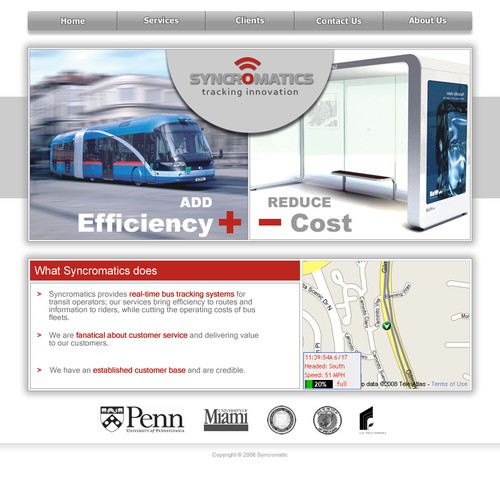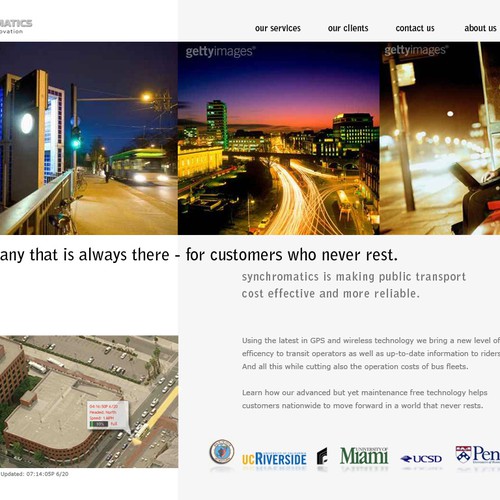 Hoe JoshB hun webdesign begonnen
Samenvatting
We originally designed the site around generic vehicle tracking. Our focus has changed to transit buses only -- colleges and city/county transit agencies. We need a redesign that reflects the focus of our business and conveys our message simply and powerfully.
Bedrijfsnaam
Wat inspireert je en hoe stel je je het ontwerp van jouw onderneming voor?
We need to make customers understand three things within 5 seconds of loading the homepage.
- We cut the costs of operating transit fleets while increasing efficiency
- We have an established customer base and are credible (illustrated with logos that link to case studies/live sites etc)
- We are fanatical about customer service and delivering value to our customers.
Gewenst
- Homepage- Our logo should be prominently displayed somewhere, obviously. http://www.syncromatics.com/files/main_logo.jpg
- We need a pane for the live bus being tracked that is the same size as the one presently on homepage http://www.syncromatics.com
- We would like transit related graphics from stock photos: buses, people boarding or on buses, bus stops, etc. We will cover the cost of quality stock photos
- we would like an area that either scrolls several customer logos horizontally or can hold one logo at a time (approx 125x125), depending on space as you see fit
- We would like a strong message to be conveyed in a visual fashion: "our services = add efficiency, reduce cost". (not verbatim obviously) Show us your creativity with how you can visually accomplish this with the use of transit images, words, etc
- We need subnav links to the following: our services, our clients, contact us, about us
- Clients page- We want a map like the one we have up there, but if you have a nicer map of the US that's great. We would like a sexy hover mockup that can include a logo, client name and link to a live site as we have shown now
- Other subpages to be clarified as we see some mockups
Wat je niet wil
- Too much clutter. Keep the core 3 items in mind and design more towards Google's homepage, not Yahoo's.
- Customers who don't get what we do in less than 5 seconds.
- Any new color schemes: stick to our reds, grays and whites as in present site
Gratis features
Open wedstrijd

Gegarandeerd

Fast-tracked
We hebben soortgelijke wedstrijden gevonden die je misschien leuk vindt