Info
A positive sense of humor, a thirst for Learning and the ability to keep smiling are the traits that i feel brings out the best in me and my work.
I come with years of experience, getting polished for positive attitude, creative learning and design skills, has made me be a happy satisfied professional, living with a hope for better tomorrow.
I would strive to give my best at what i do.
Lid sinds: 12 februari 2019
Beoordelingen
"GINO understood our request and he did a great job drawing everything that we asked for. He is always on point and we highly recommend him."
spenserlouisjohnson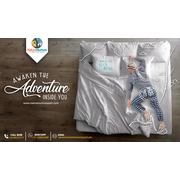 "Gino was hard working, very quick, and did a beautiful job. He was detail oriented and changed anything I asked even if I wasn't sure. Highly recommend Gino for any project and hope to work with him again!"
songsfromthedogpound